Ayanna Pressley
Ads
Creative
Development
Email
Fundraising
She is a bold, activist leader focused on making progressive change.
Congresswoman Ayanna Pressley serves Massachusetts' 7th Congressional District. She is a bold, activist leader focused on making progressive change and serving her constituents in Congress. From introducing bold legislation to speaking out and holding the occupant of the White House accountable, Congresswoman Ayanna Pressley always centers her community and the MA-07 in her approach to legislating.
The Challenge
Our email program, development work, and advertising program represent her unique voice in Congress. We collaborate closely with her campaign and cultivate a digital program that is authentic to Congresswoman Pressley and her activist leadership.
For our email and ads programs in particular, we create content that genuinely connects with supporters while optimizing for grassroots donations and engagement.
The Approach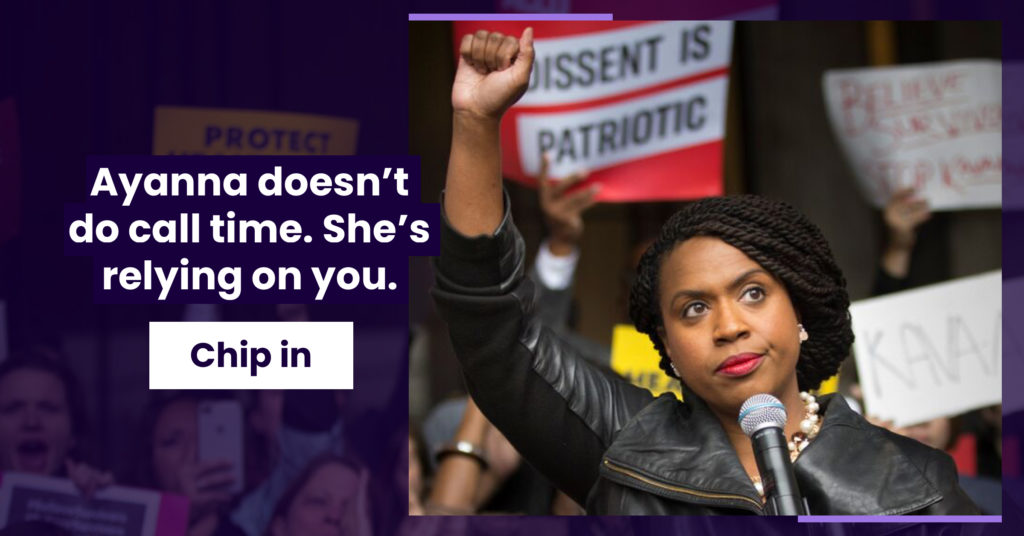 We run a comprehensive direct donate and acquisition program.
We continually run direct donate ads that test both evergreen content (focused on Ayanna's profile or re-election) and more timely content (focused on her issue advocacy or high-leverage moments in the news). The goal of our direct donate ads is to run at 100%+ immediate ROI, as well as bring in new highly-engaged donors to our email list.
Designed and developed a new, engaging website.
We worked with the A-Team on a collaborative moodboarding and design process to help the client team hone in on visuals that match their needs. The result was a fantastic design that frames Ayanna as an inspiring national political figure while maintaining the commitments to community and district. The campaign operated at a rapid clip, requiring fast turnaround whilst being mindful of the desire to future-proof the new website. We built a flexible, impactful website that can grow and scale alongside the Congresswoman's accomplishments.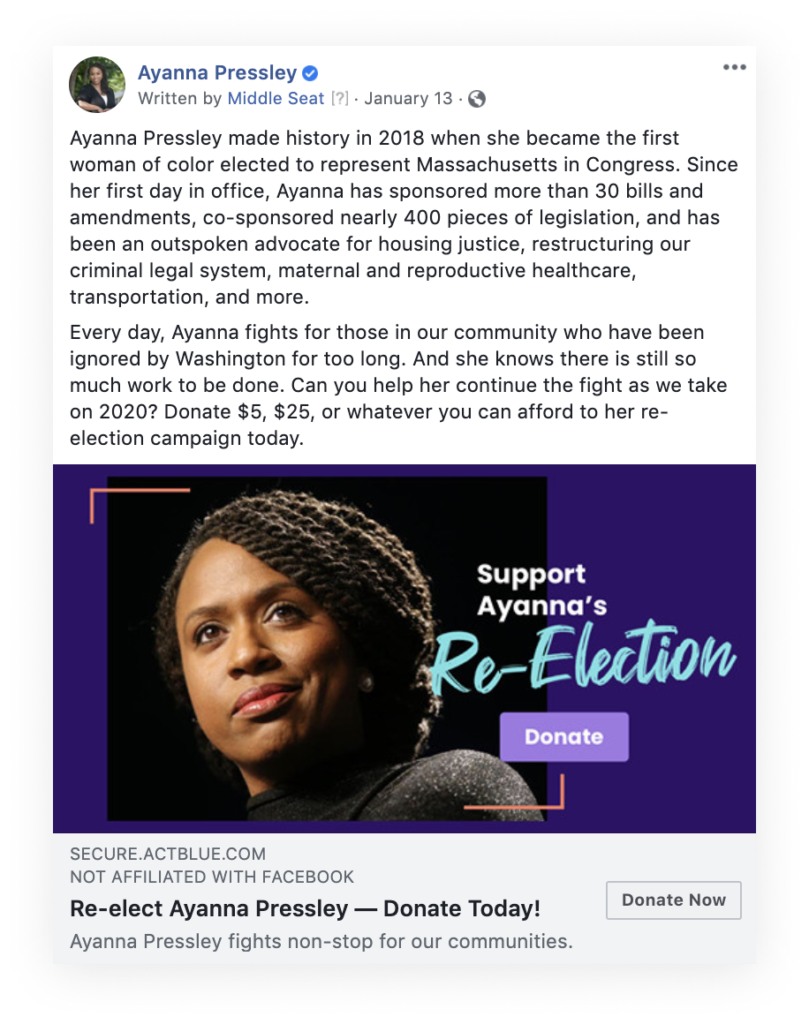 We build our list with the most engaged supporters we can find.
In terms of acquisition, we build our list with the most engaged supporters we can find. While how quickly names pay themselves back is a key performance indicator for our acquisition program, we're also interested in building a large list that can be tapped for organizing or to drive national and in-district conversation around important issues. We always use past performance of the Congresswoman's digital program to decide how to spend the next dollar of acquisition budget, which ensures that we're investing in the best possible acquisition sources.
We run an authentic and high‑engagement email program.
We work closely with Congresswoman Pressley's campaign to run an authentic and high-engagement email program, from constantly monitoring the news to look for opportunities to take action or raise revenue to meticulously planning the email strategy for the announcement of Congresswoman Pressley's re-election campaign. Our overall email strategy includes testing different fundraising approaches, including planned goal emails, emails focusing on specific issues and legislation in Congress, and breaking news/rapid response sends.
This strategy — along with increasing the number of email sends overall — has increased both our fundraising metrics and overall key performance indicators.
We personalize content and fundraising asks.
We also managed the process of standing up and implementing a new CRM for the Congresswoman. By changing CRMs, we've been able to personalize content on a more granular level, communicating differently with supporters depending on if the person lives in-district, in-state, or if they are a national supporter. We also now have the flexibility to personalizing the fundraising asks we present to people, scaling it to their individual highest previous contribution.
We Expanded the A‑team
Our paid acquisition ads and organic list-building tactics have increased the email list by 68%, increasing our fundraising and organizing capacity. We're using in-depth analyses of the new names we acquired to inform our ongoing list-building strategy.
ROI+
bringing in new donors
We Recruited New Donors — While Running At a Profit
Over the course of our first eight months working with the A-Team, we invested tens of thousands of dollars in direct donate ads, which ran at an overall profit. In addition, these ads also recruited thousands of new donors, who will give to this program again and again.
2x
increase in average revenue raised per email
Our Content is Compelling
By increasing our use of personalization, growing our email list, and taking advantage of rapid response moments, we capitalized on every opportunity to engage our supporters. This strategic shift has succeeded in driving up our average revenue raised per email.
The Impact
Our email and ads programs have taken Congresswoman Pressley's digital fundraising to the next level while always centering our content in her authentic voice. By working closely with the campaign, we've built a collaborative partnership and our services always capitalize and reflect on the incredible work Congresswoman Pressley is doing in Congress for the MA-07.