Women's March
Ads
Creative
Development
Email
Fundraising
In Fall 2019, Women's March began planning their fourth annual march for Winter 2020.
In January 2017, following Trump's inauguration, the Women's March took the country by storm with the single largest day of protest in US history. Since then, Women's March has hosted mass days of action and numerous mobilizations to build a women-led movement for climate justice, immigrants' rights, and reproductive freedom, among other issues. In Fall 2019, Women's March began planning their fourth annual march. Their goal was to recruit hundreds of sister march hosts, thousands of marchers in D.C., and funding the march entirely through grassroots donations.
The Challenge
Since this would be the last march before the 2020 presidential election, we positioned the march as our opportunity to both finish what Women's March started three years ago and center women's ability to defeat Trump in 2020. We also sought to raise more revenue by making the costs of the march transparent, which would also allow our supporters to see why their dollars were needed and how their donations would help.
The Approach
Created eye-catching creative for ads, web, & social media.
Managed the march website, which included a custom interactive map of events, a D.C. logistics page, and more
Supported day-of live coverage on social media with on-the-ground digital support
Raised more than $455,000 (with more than $158,000 in immediate profit) via direct donate ads between December 5th and the January 18th, at a sustained ROI of more than 150%
Ran ads that promoted the Rally link to buy bus tickets, boosted the Facebook event for the march, launched awareness retargeting ads on Facebook, awareness ads on Pandora, and banner ads on sites like Vice, Daily Kos, and the Nation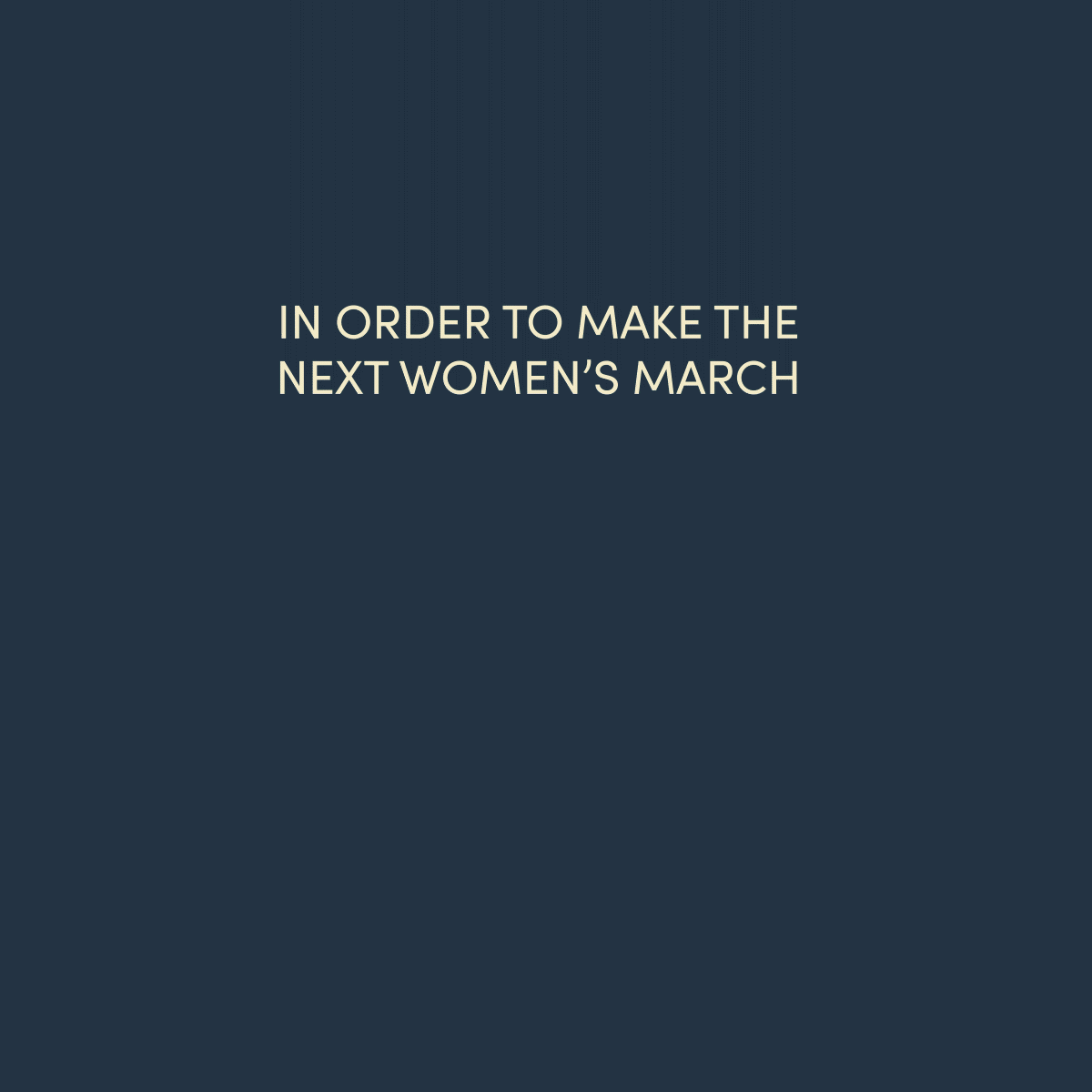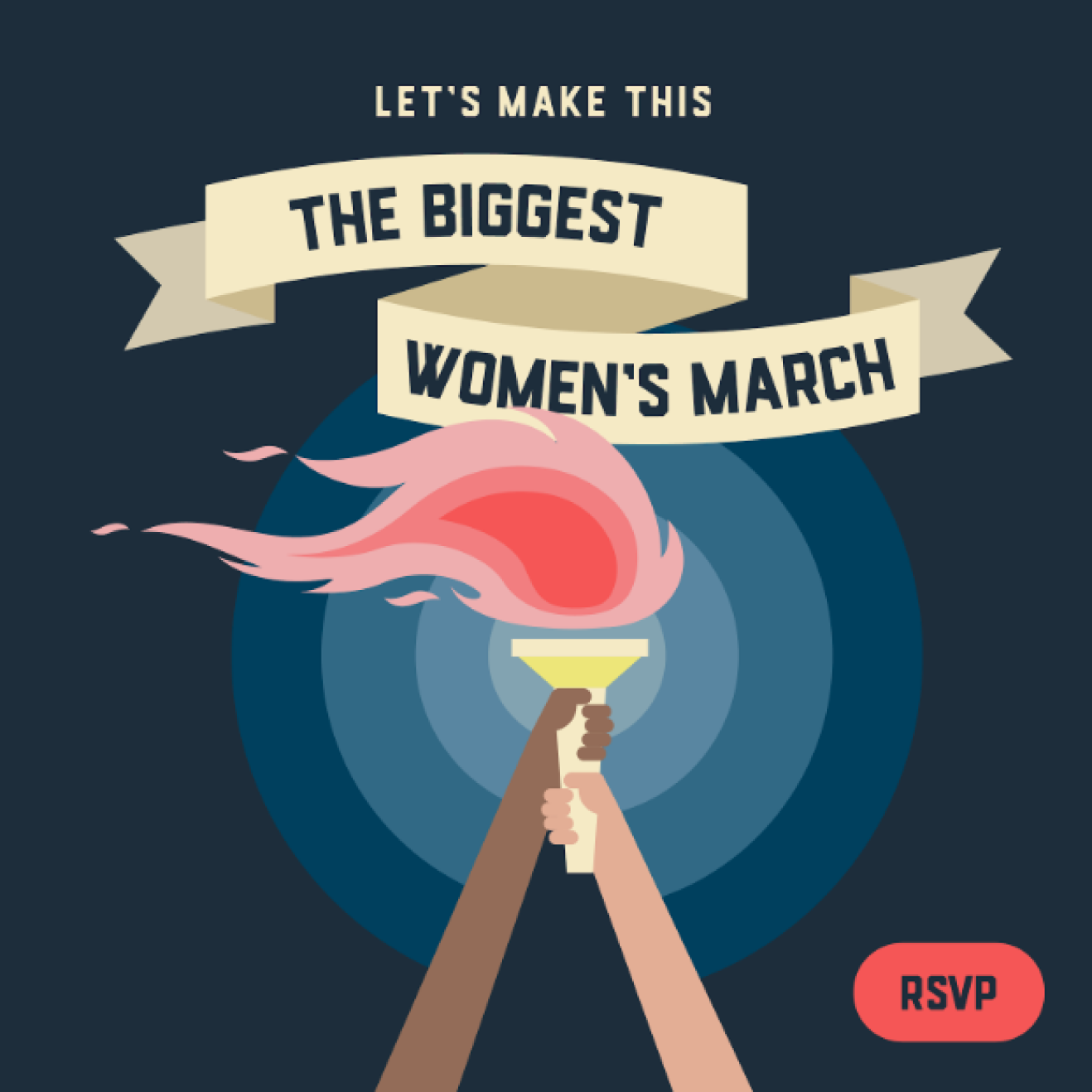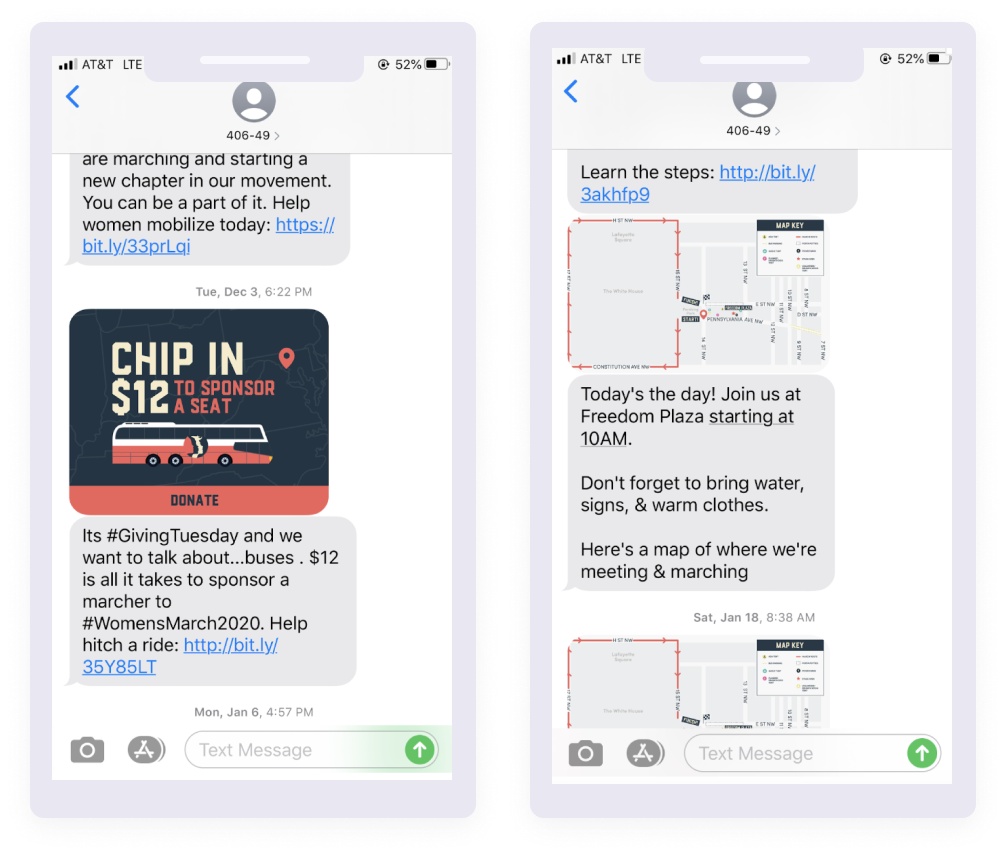 Created and executed a successful fundraising plan.
Used SMS to promote week of action events leading up to the march
Managed an SMS program that supported activist recruitment and fundraising
Recruited text opt-ins for day-of-march updates; sent alerts throughout the day to that audience about key moments (kick off, moment of silence, etc.)
Re-engaged 198,244 supporters on our SMS list; Women's March now has an average SMS click rate of over 1%, which enables us to drive huge fundraising numbers
Crafted and launched thoughtfully targeted emails.
Crafted and launched targeted emails to past sister march hosts to recruit 2020 sister march hosts
Created an Action Network toolkit that walked march hosts through the process of setting up events
Sent targeted emails with asks to RSVP, buy tickets for buses, volunteer, and join action events prior to the march
Sent consistent sister march recruitment emails to targeted geographies with localized info and calls to action
Managed an email fundraising program that was the central stream of funds for the march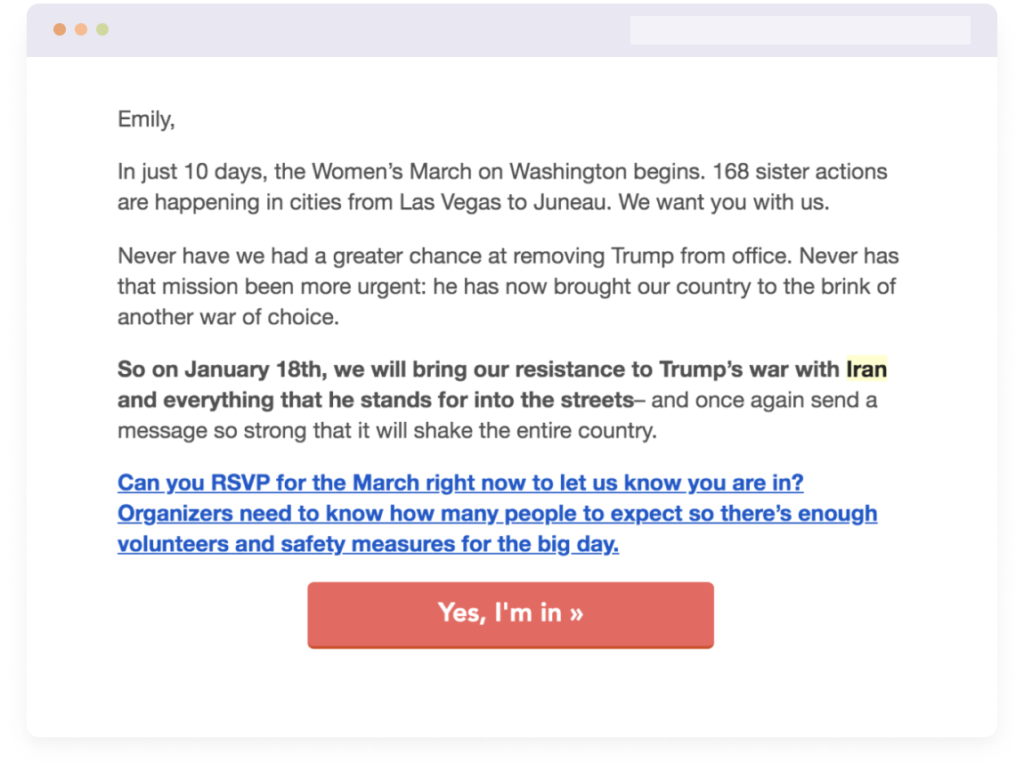 $983,538
raised in two months
We Increased Fundraising 5X
We raised $983,538 in two months, which came from 47,096 donations. $311,451.40 came directly from email, $43,298.74 originated from texts, and $158,000 was immediate profit from ads. This was a 5X increase in fundraising compared to the same time period leading up to the 2019 march.
88.46%
of donors were brand new
Ads Brought in Donations and New Donors
We ran event promotion ads, broad awareness ads, fundraising ads and acquisition ads. Our ads brought in 22,609 donations from 16,077 new donors.
14,000
RSVPs for Women's March 2020
Increased RSVPs for the DC March
In 2019, the D.C. march had 14,000 RSVPs; in 2020, with Middle Seat's support, that number grew to 20,000. Overall, the march in D.C. and sister actions across the country were a huge success with many large-scale events across the country.
The Impact
Thanks to Middle Seat, the 2020 march was a major success. Once again, we proved that Women's March is a powerful force in the Trump resistance that has a unique ability to bring tens of thousands of people together into the streets.